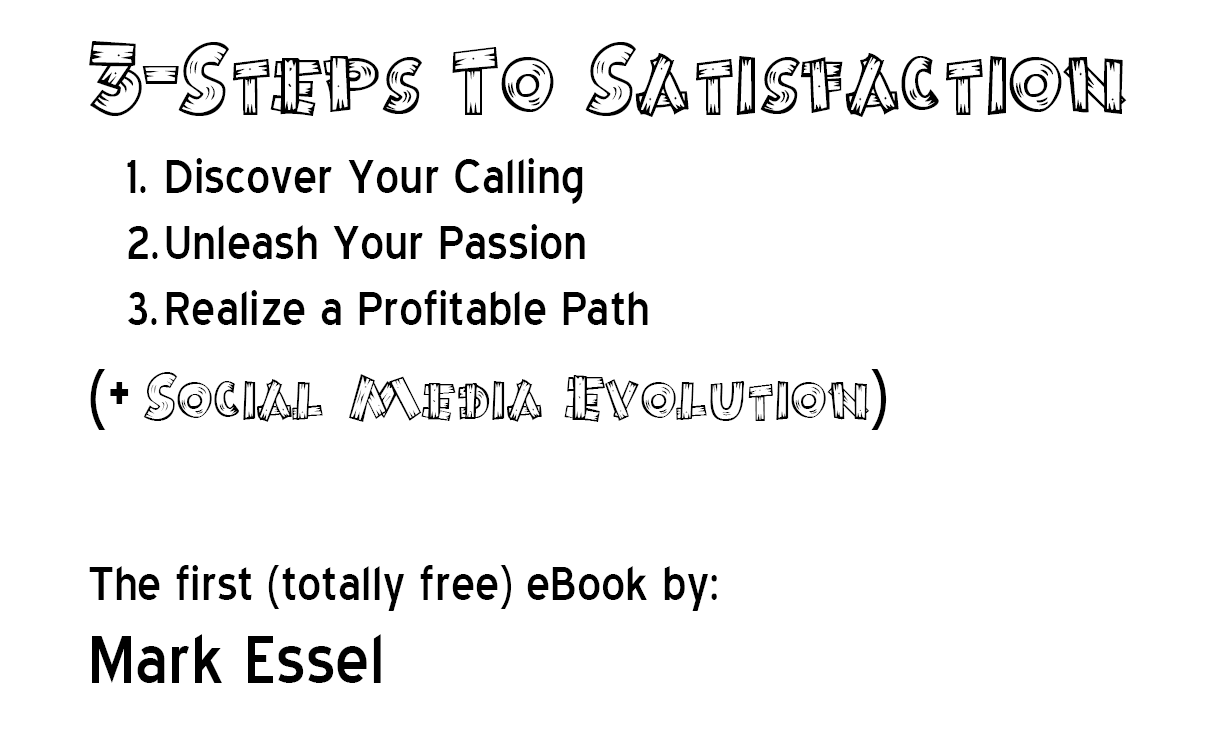 What's 3 Steps to Satisfaction About?
Although a short read (~50pages) the topics covered are based on my discovery of a different way of valuing one's productivity. When faced with difficulties while working on projects I am passionate about, I see them as welcome challenges to be overcome. While reading or paying careful attention throughout the day, I am fortunate enough to be inspired on matters that I believe could use some rethinking or optimization. By altering the way we perceive challenges and harnessing our greatest interests, we are able to create greater value from our productive time. In turn the economic system (our pay/profit) has evolved to yield greater rewards to those responsible for delivering greater perceived value.
I'm looking for a few generous folks to take 30-40min and review my first ebook.  It's comprised primarily of reorganized blog posts with a few edits/additions.  If you like, leave a comment here and I'll send a copy to your email (or you can grab it at the link below).  I'd really appreciate you sharing your opinion of the ebook via your blog, twitter/friendfeed stream, scribd, or soapbox and any comments here.
Greetings and salutations. First I'd like to take a moment to thank you for taking the time to download and peruse my first foray into publishing. Much of the material for this short eBook is freely available on my blog at http://www.victusspiritus.com/. But as an avid blog reader myself, I understand it's often easier to spend time carefully digesting material covering lengthy topics in a book like format. With that in mind, I've reorganized and edited some of my work over the past few months into an ebook.
3-Steps to Satisfaction has one central message from which several ideas branch from:
When our work is a manifestation of our greatest passion, quintessential value is a natural byproduct of perpetual enthusiasm and personal satisfaction.
I've observed a commonality among the many folks I have had the pleasure of meeting, learning from and working with over the years. This tell tale feature is shared by warm and humbling friends and family that have had a hand in guiding my sometimes eccentric personal views. Among all the people I've come across, in all the places I've been, those who pursue a path aligned with their internal passions are not only successful, but satisfied.
Their enthusiasm is awesome, contagious, and inspirational. In fact they are the spark that lead me to begin writing, and share this simple message with everyone that was willing to listen.
It's available for public download, 3 Steps to Satisfaction (that require no dancing skill).
Grab an ereader friendly prc file here (could use some layout help)
If you aren't completely satisfied with the read, allow me to repay your time lost in kind (by reviewing, marketing, coaching whatever projects you may have).
Related articles by Zemanta