[caption id="attachment_374" align="aligncenter" width="300" caption="friendfeed's data is open to users"]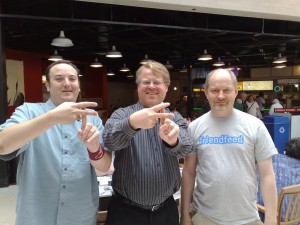 [/caption]
Open vs. Closed (Data/Software)
First off there are many types of open data and software standards, and Seth Godin realized the value in listing many of them.  The most powerful social media companies in the world have closed data today but it's unlikely they will stay that way.  Facebook's private data collection is huge and growing fast, and it has attracted many application developers (mini games, etc.).  While this is true we can't deny the incredible developer community that has sprouted up around twitter and boosted not only it's popularity but it's core functionality, third party developers have increased twitter's value.
Facebook isn't the only business with closed or private data.  They are accompanied by the software giant Google (with it's private data in gmail), huge government and private medical databases. There are massive amounts of closed data, and much of it is stored online.  What data collectors are realizing, is that outside sources are an incredible resource for software development.  This is true when it makes sense to open up their data/API/source code.
Third party developers add value to the data collector as well as the user:
by perceiving new problems and producing solutions
by offering novel software that utilizes the data/infrastructure
by pushing the utility of data/infrastructure over the critical market interest necessary to transform a B player business into a grade A corporation
The natural trend is that increasing numbers of data bases, data collectors, and information infrastructures will open up (with permission) to invite the aid of social developers, us.  Like sirens in the sea, big opportunities call to entrepid software developers.  Unlike crashing into rocky shores, these social developers can not only profit but become well known for their expertise.  The tools created in turn gather the interest of more users.  This defines a simple three step process to increase the value of a business that opens its data or infrastructure.
Open an existing functional database or architecture
Invite third party developers to create opportunities within the new open space
Pay heed to user input, and allow for social feedback to alter the database or architecture
these steps increase user number and satisfaction, a winning combination
Walled Gardens
Despite the trend towards openess, there exist many bastions of the closed method of doing business. There are  several areas where closed or private data cannot easily be opened and thus will lag behind due to the lack of developers or expensive costs:
Government restricted data (for security reasons)
private medical data (to support our right to privacy)
research article archives (to maintain quality)
some internet magazines/newspapers (to generate revenue)
Whenever possible we should do our best to create open versions of data, not to only to boost efficiency and innovation, but to ensure long term security and privacy.  Prohibitive costs can end programs or topple medical systems, so it is our duty to improve efficiency wherever possible.  We can achieve this to some extent by decoupling data sets from their specific owners:
When applicable, closed government information/scenario decoupling can be accomplished by removing specific identification to data sets (what, where, when, units, etc.).  In addition separate portions of large projects/databases could be disassociated.
For private medical information, we can isolate patient identity from their medical histories.  If we can securely do online banking, we can surely provide privacy for online medical information histories.
Closed research article archives and internet magazines are competing with free alternatives so they are forced to maintain clearly superior information otherwise they face obsolescence.
[podcast]http://www.victusspiritus.com/audio/OpenVsClosed.mp3[/podcast]
Thanks to Fred Wilson for inspiring this post with his idea "Is Twitter a Substitute for Set Top Box Data".