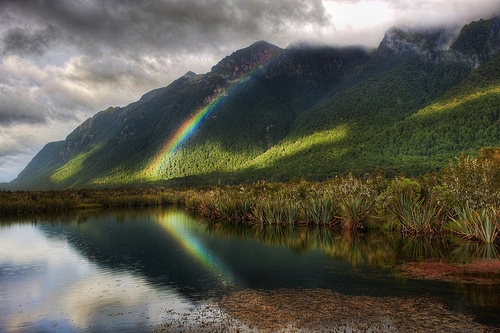 Another Breathtaking HDR shot from Trey Ratcliff (click the image to see more of his work)
I hopped into a conversation related to how Mahendra's Palsule's organizes Google Reader. It took place under Louis Gray's Buzz share, and Robert Scoble commented how few page views and little attention was driven by Google Reader & Buzz as of late. Here's a link to the conversation, I'll quote the relevant section:
I mentioned that Social Media is still too self involved. We're preoccupied by how we handle tech news and information, as opposed to talking about great new tech, software, geek glory. Even in this blog post I'm only adding to that sign of immaturity as I discuss the weaknesses of the social web. The problem of relevancy to individual readers is a distraction from quality analysis.
Information Overload
As much as I appreciate the fine coverage of Robert, Louis, and Mahendra at finding fantastic tech news, I can't fine tune their information streams to my personal interests. Even though I'm able to filter their shares with some effort, I can't change their attention to focus on what's most interesting to me. Robert mentioned lists (or groups feeds for open web alternatives), but almost every person shares a diversity of information. Their interests aren't a narrow laser beam of knowledge on a given topic (which is a good thing), but it makes filtering real time info that's relevant to me a challenge. As long as it's required that casual or normal web users have to sift through mountains of garbage to find a few pearls of information most relevant to them, social media sharing is failing the majority. The challenge is for us to reinvent how new content and media is rated, and rises to the attention of curious browsers without a heavy time commitment. Many startups and large knowledge systems are working hard on this problem, and I look forward to offering our spin on a solution shortly.
Related Posts:
Related articles by Zemanta