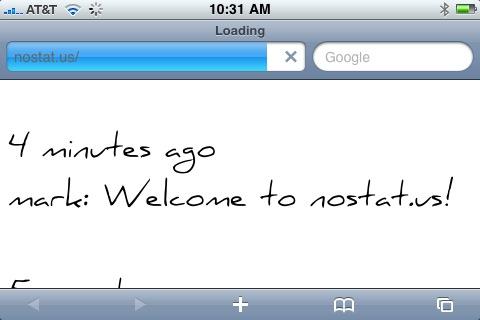 Behold! The soft release of Nostat.us.
Nostat.us is social web communicating, without distraction.
We'd love you to sign up and try it out.
The perfect amalgam of microblog and instant messenger. The hybrid chat tool takes away every distraction and focuses the entire content area on the messages of people you wish to keep track of (public open follow model). At this moment the chief hacknical wizard of Victus Media is making some last minute tweaks to Nostat.us to get it ready for a wicked web design conference happening in Portland tomorrow: aka Web Visions.
To follow or unfollow type follow: or unfollow: in the message box. The public stream of all messages shows up when you're not logged in.
Why is Nostat.us better than X?
It can't get simpler. Super intuitive and easy to use.
No distractions. No funky avatars. No bells, no whistles. Just a lean mean raw message machine. Nostat.us supports real time chat and asynchronous message transfer
It works beautifully on desktops, laptops, mobile devices and tablets
The alpha was written in only a few lines of code, but it now leverages the most advanced and powerful web technology available. Combined with the ultra lean interface, it's like giving laser guns to neanderthals to draw on cave walls. This anachronism makes scaling a joke.
It's html friendly, go ahead and add in an image link or href. Just had to catch and disable iframes as they auto loaded on mobile (iPhone).
There's no routes to worry about (yet?). Gotta work out the simplest way to find and follow a friend or group.
You can tune into friends or tune them out any time, just click on their name and a dialog opens.
it's all built around an API that's natively read/write from the ground up. Expect simplicity at all steps. Pull your feeds into other readers or html pages with smooth javascript. Don't like the font, hack your own CSS/Javascript
It will remain as simple as it can be based on Tyler's design (he sometimes considers my suggestions when phrased properly :). Only mountains of money (big ones) will change his mind, so don't expect feature creep. AppStores and spam are not for us. We believe a freemium model will more than enable us to scale to whoever wants to use the service.We're on the fence about federation. Tyler thinks normal folks don't want it, and it makes the service more complicated to have cross domain communication. I like removing the middle man whenever possible even if its me. We may or may not federate down the road, but we're not there yet
We don't need hundreds of thousands of dollars of your money and months of waiting to give you a clean social network communication system. It's live, now.