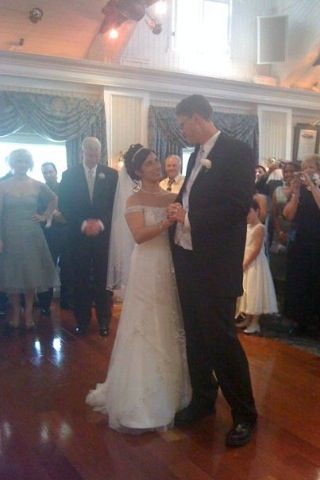 I'm living proof that wonderful things can happen to quasi-good people (I have my moments). I was fortunate in that Michelle didn't come to her senses last minute ;). One of my common jokes is that she'll get fed up with my corny jokes and startup dreams and run off with her world travelling lover "Pedro". So far so good!
Wedding Toast
My brother Ron killed the delivery, people wept, myself included. The core of the toast he snagged online and customized the rest with input from my folks.
I am honored and pleased to say a few words on this very special day... the wedding of my brother Mark to Michelle.

Today's celebration is the result of what happens when a physics and engineering geek falls in love with a molecular biologist while watching Japanese Anime. I know because I was there!

The love and respect they have shown each other has strengthened over the non-spatial continuum in which events occur in apparently irreversible succession from the past through the future - you know, TIME.

Dale Carnegie once said, "Don't ask a man what is important to him. Watch how he spends his time." I've watched Mark spend his time and I can see what's most important to him... it's Michelle. Michelle has given Mark a new appreciation of love and life... I'm so happy to welcome my new sister into the family.

I ask that loving family members and good friends join with me in toasting Mark and Michelle as they begin their exciting life together as husband and wife -- wishing them laughter, health, peace and happiness along with all the best things life has to offer.
Posting as I can while travelling
10 days in Maui, and 3 in San Fran Bay Area (finally meeting my partner in Victus Media Tyler and his wife Heather). Will be posting while walking/waiting. I'll snap pics and share them on My tumblog, Google Buzz, and
Posterous periodically.