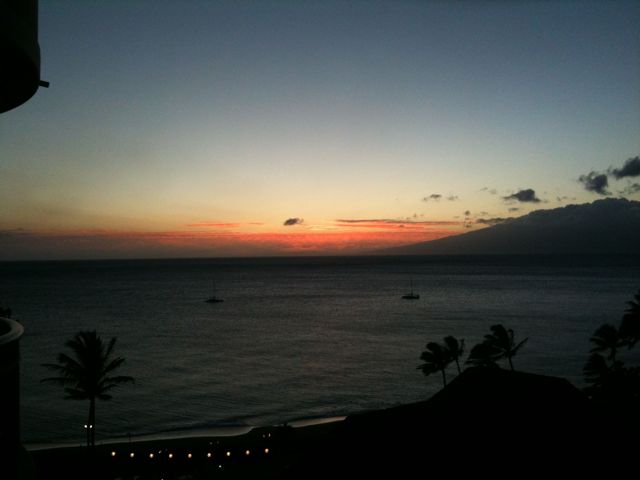 our last sunset in Maui
There's only so much vacationing I can handle at a time. After a few days of bad sleep, I miss the comfort of my bed. After a few days without getting any productive work done, I feel like a bump on a log, and out of place. As beautiful and enjoyable as Maui has been, I can't wait to head home and get back on a regular schedule. The eight full days here have felt like one long expensive Disney ride, disconnected from reality, yet full of wonderful moments shared with my new wife Michelle.
We're scheduled to fly to San Francisco through Honolulu tomorrow and both happy to be heading back to mainland and one step closer to home. We're spending a brief three nights to scope out the San Francisco area and meeting friends, before our final flight home Saturday. So far family and kind friends have suggested the following sights to see while in the Bay Area.
My mom and brother suggested many well known sites in San Francisco and Carmel if we have time to drive down.
Victorian architecture Nob Hill is a nice pace to walk around. North Beach area is quite cool. Not sure if you can still go to Alcatraz but I liked it! I also like Sausalito. If you like wine a trip to Napa is a must and if you want big outdoors then Tahoe is fantastic although I've only been in the winter.
Muir woods, pt Reyes, rte 1, skip the valley unless you have meetings there. sf--I love Dolores park, and the cafe on guerrero and 21
Fred T suggests:
Or try Lake Tahoe this time of year. Picturesque.
I'm excited about meeting my cofounder and friend Tyler for the first time. We've worked together and shared heavy email, skype, social web, and phone messages since last October. We're both pretty stoked on grabbing a meal with ubergeek Robert Scoble (imagine getting paid to interview startup founders, yeah that's a big part of his job). I'm trying to arrange meeting Denton Gentry and any other social web friends as well. It all depends on how much Michelle will let me get away with. I don't want her getting too bored while I "play" with my tech friends, otherwise I'll pay for it later ;).