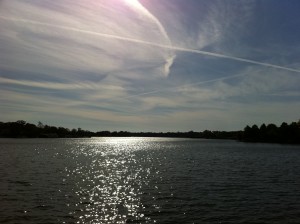 Lo and behold we're deep in flu season again. I'm fighting off a cough while stuck at home, and sadly I can't bring myself to focus on anything too intellectually stimulating. The one bounty I'm grateful for while cooped up at home is great background tunes and with a trusty net connection there's no shortage of supply.
I engaged in some mindless hack and slash gaming in World of Warcraft this AM with my long time buddy Eli, while zoning out to the game music. I followed up with a couple of hours of fine drum and bass podcasts speckled with dubstep directly from KongKast.
No matter how limited you are physically, you can always go on a journey with music and sound. The flow of rhythm steals away the moment and enables one's mind to roam free. Music provides a stylish background to just about any activity. Whether it's reading, hacking away on code, or composing a simple blog post, melodies become the vehicle of actions.
The magic of music is overcoming tremendous challenges while hardly noticing the struggle. The next time you hit a creative or productive wall, I humbly suggest matching the activity with appropriate tunes to guide your enthusiastic energy.